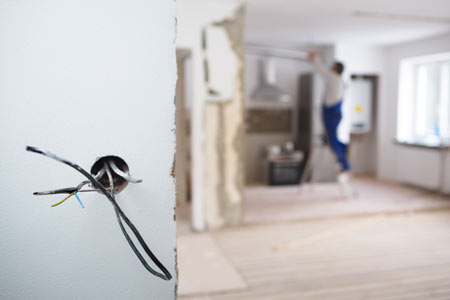 From light switches and sockets, to overhead lights and ceiling fans, you rely on a number of critical electrical installations in your home every day. To ensure they're safe, fully-functional and up to code, call Diamond Electric. We're the most comprehensive residential electrician in Louisa, VA, providing our customers with service and insights they can count on for their home's many electrical installations.
Our residential electrical services in Louisa, VA span the gamut of needs you might have. From troubleshooting to new installations, remodeling projects to simple repairs, trust our team to provide you with unparalleled electrical service.
Wiring and Rewiring: Finally updating your kitchen or bathroom? Setting up a home office that needs new receptacles wired in? Whether you're replacing old wiring, need new wiring installed or have a project that needs electrical oversight, we're the team to call. We tackle wiring projects big and small.
Interior Lighting: Our team specializes in all things involving your indoor lighting. Task us with LED upgrades, new fixture installations, fixture repair and more, and know you're going to get superior results every time.

Exterior Lighting: From security lighting to landscape accent lighting, we're also your all-in-one resource for exterior lighting. Call us to consult about your existing lighting or install new lighting on your property.
Fixtures: Whether it's a simple job like putting in a new GFCI outlet or something more complex, like rewiring your breaker box, our team can handle the job. We always go above and beyond to make sure the job is done right the first time, and that your home is safely updated with quality fixtures.
Repairs: Got flickering lights? Identified a short in your circuit? Dead outlet? Whatever the problem, we bring solutions with us! Our team will accurately diagnose the problem and provide a swift resolution.
These are just some of the many services we offer—to learn more about our complete capabilities or to have a contractor come and inspect your home, please contact us today by calling 434-422-0565.