When you build a new home, everything – the rock-solid foundation, a fully-functioning HVAC system, the plumbing – should be perfect. When it comes to home electrical wiring in Louisa, VA, Diamond Electric is the contractor to call for unparalleled quality, safety and excellence. We're the company developers know to call when they want the best in new home wiring.
Large Project Expertise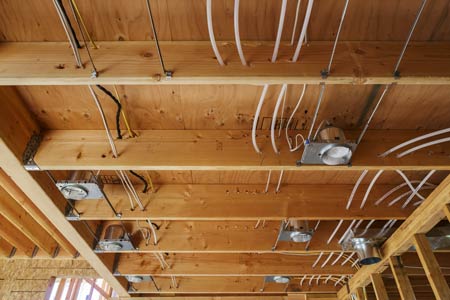 New construction wiring in Louisa, VA far exceeds any simple fixture replacement or update. In fact, it takes a whole breadth of skills to make sure a building is completely wired from the ground up.
At Diamond Electric, our team is intimately familiar with large, whole-home wiring projects. From making sure your breaker panel is wired from the get-go, to establishing proper code across all outlets and access points, we put in the time and effort to make sure things are done right. From single-story ranch-style homes, to multi-unit complexes and other complicated projects, we put the scope of work into perspective before we start, to ensure nothing is overlooked or under-served.
Expert Oversight
Why trust Diamond Electric over other new construction contractors? In addition to large-scale project experience, we also bring bulletproof credentialing and certification to the table:
Class A Electrical Contractor #2705066477
Master Electrician
SWaM Certification #726162
We have the certifiable skills you're looking for when you need a large project, done to the best possible standards of safety and quality.
We Work With Developers
If you're a developer or builder looking to subcontract electrical work, we're the company to call. We promise that after working with us on just one job, we'll be your first choice for all new construction electrical wiring in the future!
Contact us today at 434-422-0565 for a free consultation and estimate on electrical wiring services for your new development.